Nothing about CJ Everhart is traditional, from her blue collar job to her thoughts on relationships but now that she's thirty, she wonders if there is more for her than the life she's living. Enter big-city transplant, Peyton Quinn, and CJ can't deny the chemistry between them, but can Peyton convince her to take a chance on love?
Fall for this hard-working hottie in Hold Onto the Stars by Tracy Broemmer, a Blind Date Romance, the next book in the Blue Collar Romance Series.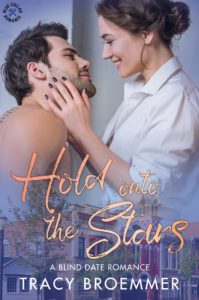 From author Tracy Broemmer comes a blue collar, blind date romance with a fun twist, a sassy heroine, and a happily ever after.
CJ Everhart—small town girl, licensed electrician, professional sports fan. With her thirtieth birthday in the rearview mirror, CJ can't help but wonder if there's more to life than what small-town Oak Bend, Michigan has to offer. Nothing about CJ is what the people of Oak Bend would call traditional from her blue-collar roots and reputation as one of the town's best electricians, to her thoughts on what she really needs in a relationship. She's not the kind of girl who needs flowers or other silly romantic gestures, and her ideal future bucks the small-town script of marriage, babies, and soccer-mom minivans.
Peyton Quinn—big city guy, elementary school teacher, new to small-town living. Transplanted from a Chicago suburb, Peyton moves to Oak Bend for a change of pace—oh, and to hide from his well-meaning family. Enter a well-meaning friend who sets him up with the perfect blind date. Too bad she doesn't hold a candle to the mysterious Tigers fan that he ran into in a local sports bar.
When their paths cross, sparks fly between CJ and Peyton. CJ doesn't deny the attraction, though she insists she's not the kind of woman Peyton needs. But the more they're around each other, the more Peyton believes fate brought them together.
Can Peyton convince CJ they were made for each other and the sky is the limit for their love if they can hold onto the stars?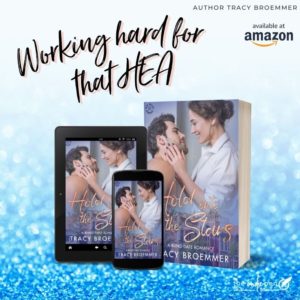 Excerpt
Copyright 2021 Tracy Broemmer
CJ tried to keep her eyes off him. After all, he was Violet's date. Never mind the fact that he was the best-looking guy in the bar, the most interesting thing to happen in Oak Bend since Sherry brought in the Fifty Shades of Grey series to their little local library, and currently leaning over the pool table, putting some prime all-American male on display. CJ let her eyes roam over his arms, the way his shirt bunched up a bit over his biceps. One of his hands rested on the green felt, propping the pool cue, while the other held the cue loosely as he eyed his shot.
Cheeks hot, she dragged her eyes over his backside—she liked a man who filled out his jeans the way he did—and glanced at Violet, ready to beg for forgiveness. But Violet had her back to the table, talking to a few guys they had gone to school with. CJ looked back at Peyton when she heard the clack of the cue ball. She watched two solids drop into the corner pocket, totally unprepared when he looked up and hit her with that intense gaze.
"Lucky shot," he said around a sheepish grin.
CJ simply smiled and watched him study the table for his next shot. When he did finally step closer to the table and lean, she let out a quiet groan. Embarrassed, she bit her lip when he straightened and looked at her in askance.
"What?"
"Nothing." She shook her head.
"C'mon." He turned to her and tipped his head. "What're you thinking?"
"That's not your best shot," she mumbled.
"No?" He looked back at the table with a frown.
"You're not at a good angle."
Uncomfortable under his intense scrutiny when he shifted his gaze back to her, CJ grabbed her beer and drained it.
"The two ball is less than an inch off the corner pocket," he told her.
And that less than an inch would mean he would miss the shot, but she simply shrugged and nodded to the table. With her beer gone, Violet still engaged in conversation, and nothing to do with her hands, CJ folded her arms over her chest and watched Peyton take the shot. It wasn't pretty, but after a second of bumping around, it dropped into the pocket.
"What shot would you have taken?" he asked her as he eyed the table again.
"The five at the side," she answered without hesitation. He swung his gaze to the five and shrugged, but he nodded. The last shot had left him with nothing good this time, so CJ's eyes wandered over his backside again.
"You're dry."
CJ stared at him blankly when he joined her at the high-top table. Watching the fluid motion of his body moving around the table had been entertaining, and while her panties hadn't melted, she was aroused enough to feel flustered by his comment.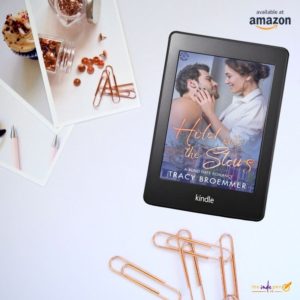 About Tracy Broemmer
An only child, Tracy Broemmer grew up with a wild imagination. An avid reader from a young age, she spent a lot of time with her nose buried in books and a lot of time making up her own stories. She penned her first book in grade school and hasn't stopped writing since then.
When she's not writing, you might find her with a book in hand, or maybe a glass of wine, or maybe a book in one hand and a glass of wine in the other. Tracy enjoys spending time with her family, traveling with her husband of twenty-eight years, music, NFL, and MLB. Tracy is the author of the Lorelei Bluffs women's fiction series, the Williams Legacy, and several stand-alone women's fiction novels. She has recently dabbled in contemporary romance, as well.
Tracy's books have been called gripping, emotional, and timely, and readers describe her characters as real and relatable.
Follow: Facebook | Instagram | Pinterest | Goodreads | BookBub | Amazon | Website |
About The Blue Collar Romance Series

Escape to Oak Bend where blue-collar hotties work hard and love even harder.
From broody carpenters to sexy electricians, these eight standalones are packed with small town feels, heat, and heartwarming happily ever afters.
Enjoy your favorite tropes written by an amazing group of authors: Jaymee Jacobs, Alexa Rivers, Evelyn Sola, Kate Carley, Tracy Broemmer, Mila Nicks, Claire Wilder, and Moni Boyce.
Fall head over heels for swoon-worthy book boyfriends who aren't afraid of a little hard work for that happily ever after.
This promotional event is brought to you by Indie Pen PR