THE BABY GAME BY ANDIE M LONG
SPECIALIST BLOG TOUR BY FRANCESSCA'S PR & DESIGNS
SPECIAL BLOG TOUR EVENT CLICK HERE

The next installment in the bestselling Alpha Series.
The Baby Game

Ronnie Taylor and husband Harry had agreed they'd wait a few years until starting a family. So when Ronnie discovers she's pregnant after being a bit too casual with her contraception, she finds herself in a dilemma. Harry is taking his mother on the trip of a lifetime at the same time as their bundle of joy is due. If she tells him, he'll cancel the trip and she doesn't want his mother to miss out.

In typical Ronnie style, she ropes in TV Researcher and friend Nina, and pretends she's filming a reality show about eating junk food. She's going to blame all her baby weight gain on burgers. Surely she can't get away with it? Or can she..?

With cravings for dog food, a mission to match-make her midwife and a never-to-be forgotten speech for a Healthy Eating charity event, it's another hilarious adventure with the loveable, crazy 'ladygardener'.
Add To Goodreads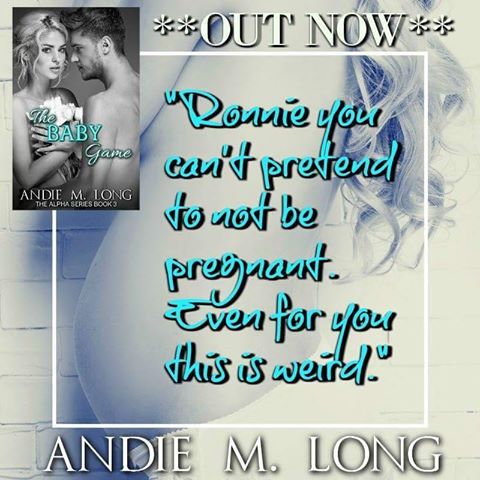 An extra special chapter written exclusively for the Baby Game Blog Tour
This scene takes place in New York after the birth of Stella and Gabe's second child.
When babysitting goes crap.
"

Can we ask you a huge favour?" Gabe comes walking into the lounge wearing the appearance of parents of newborns. His face weary and ashen.
"

Sure. Ask away," I reply.
"

Do you think you and Harry could look after Zander for a couple of hours this afternoon? It's just I feel that Athena's feeling a little left out and we could use some fresh air and peace. We thought we'd take her to Central Park Zoo. While you're here, you could enjoy extra special baby cuddles." Gabe leans into the crib and strokes the side of his newborn son's face.
"

Well, how could I resist baby cuddles?" I smile. I glance at Harry who nods his head.
"

Yes, we'll do it." I tell Gabe. "You go get ice creams at the zoo and spoil my little girl."
"

God that sounds nice, being spoiled." Stella raises her head up from where it's been resting on a sofa cushion. She's been dozing at the side of the crib for the last couple of hours after Zander stayed awake most of the night. He is of course, now sleeping soundly in the daytime.
"

I was talking about Athena, not you." I retort.
"

Figures." Stella rolls her eyes. "Right I'm going to pop in the shower to try and wake myself up and then we'll get going. Oh, Gabe let's have lunch out too."
"

Sounds good to me. I'll get Athena ready," adds Gabe. "Will you two be alright with Zander for a bit?"
"

Well, let's hope so seeing as you're leaving him with us all afternoon." I shoo them out of the room.
"

You'll have to do the nappies, I'll puke." Says my husband.
"

You're so pathetic." I push his arm. "You are so doing a nappy and I'm going to video you doing it."
"

How come it doesn't bother you?"
"

I'm always dealing with cat and dog shit in gardens. You get used to it after a while." I've also had to have a blood test for toxoplasmosis as their faecal matter can affect embryos and cause potential blindness but of course I can't tell my husband that.
Later, we say goodbye to Gabe, Stella and Athena and return to the lounge. The room is bathed in sunlight, one curtain drawn across to shade Zander. He looks like an angel, with his little chubby cheeks and contented face.
Harry and I spend the next thirty minutes making out on the sofa as Zander continues to sleep. Then Harry utters the words that change everything.
"

Piece of piss this baby lark isn't it? I can't understand what people moan about."
I try to place my hands over his mouth but it's too late, the words have been ejected into the world, where the forces of nature are about to laugh at us from a great height. As Harry knocks my hands away from his mouth asking me what I'm doing, he jolts the end of the crib.
I get up and stand over the crib and stroke Zander's nose like I've seen Stella do. It does nothing. In fact his little face scrunches up and gets red. I reach into the crib and pick him up.
"

Shh Zee, it's Auntie Ronnie. It's all okay. Shh." I rock him in my arms.
Zander settles in my arms, so I quit the rocking.
"

Don't stop," shouts Harry.
My eyes widen, "Why not? What's wrong?" I panic.
"

Nothing. I'm watching your boobs jiggle about, it's fucking awesome."
He gets a dirty look for that remark and not an encouraging one.
I attempt to lay Zander back in his crib but he's having none of it.
"

Do you think he's hungry?" I ask Harry.
"

I don't know. Shall I warm up a bottle to see?"
Zander was indeed hungry and guzzles his bottle down in what seems like nanoseconds. After I wind him he seems quite settled in my arms. I'm not really keen on trying to put him back down in his crib when he's settled but Harry's nuzzling my neck. He's obviously got the horn on and wants a bit of attention himself.
Suddenly Zander's face goes puce again.
"

What's happening to him Harry? Something's wrong."
That something reveals itself as a massive fart.
"

Oh my God, that absolutely reeks," says Harry making gipping noises. "I'll tidy this bottle away in the kitchen."
"

No you will not. You'll put the baby changing mat on the floor and check if Zander's made a deposit."
"

Ron, I can't change a nappy. You know what I'm like with smells."
"

What about when we have a kid?" I ask him.
"

I'll employ a nappy changer."
The trouble is he's probably not kidding.
"

Come on. Common cognitive behavioural therapy approach required. Aversion therapy. The best way to get over it is to do it."
"

I don't want to know how you're an expert in CBT."
I shrug my shoulders. "I was given a course as part of treatment for my apparent stalking. Not aversion therapy, just training in impulse control."
"

And how's that worked for you?"
"

My impulse was to get a crush on the Therapist. He signed me off if I promised not to visit him at home again."
"

Anyway." I place a stinking Zander on the mat. "Crack on. I'll walk you through it."
I look at little Zander on the mat. He's so very tiny. I can't believe we will have one of our own soon.
"

Take off his bottoms and then undo the poppers at the bottom of his bodysuit."
As Harry removes the little leggings I can see that the leg holes of his body suit are a mustard colour. Harry notices and winces.
"

Jesus, has he been rolling in piccalilli?" Harry turns to me looking like a man who's been told to go on a lifesaving mission from which he may never return. "Are there any gloves?"
"

No, there are the baby wipes if you get any on your hands. Get on with it, poor little guys miserable."
Harry carefully undoes the poppers and takes off Zander's bodysuit after I tell him we must put him a new one on. As he lifts it he smears poo on Zander's head. "Hang on mate, I'll get that off with a wipe," he informs the newborn. "I'll take your nappy off first."
There's not that much poo in the nappy to be honest. Just a yellowy spray of liquid. It's spread itself around the nappy. As Harry puts the nappy to one side and reaches over for a wipe, Zander's foot touches his bottom smearing shit on the mat. His hands excitedly pump and before the wipe is in Harry's hand, Zander also has it on his hand and the side of his mouth.
Harry leans over Zander and wipes first his face, then his hand. "Hey little guy, it's not so bad is it? Uncle Harry will clean you up." Harry grabs Zanders other hand and lifts it to his lips and kisses it. Unfortunately what Harry hadn't realised is that while he was cleaning him, Zanders other hand had touched his dirty bottom.
"

Arrrgggh. Oh my God, I have shit in my mouth. I repeat I have baby shit in my mouth."
I really do want to help, but I'm videoing and far too busy being in hysterics.
"

Harry you can't abandon the baby, you're going to have to wait. Just rub a wipe across your face for now and clean Zander up."
Harry takes a deep breath, grabs a handful of baby wipes and starts again. He wipes Zander's other hand, his feet and finally his poo covered bottom. Then he lifts up his legs and wipes the mat underneath him.
"

I did it. Oh my God, I actually did it." Harry turns to me. "I survived a nappy change." He leans over Zander. "Hiya gorgeous guy. How's it feel to be all clean, hey?"
Zander answers by spraying my husband in urine.
When Gabe and Stella return home and come into the lounge, they both raise an eyebrow at the fact my husband is shirtless while their baby sleeps away in his crib.
"

It's not what you think." Answers Harry.
"

Well you can fill us in on your afternoon in a mo," says Stella. "I've brought you a treat from the cafe at the park. I'll get some plates."
"

Oh, what is it?" I ask, realising I'm ready for something to eat and drink.
"

Toffee and banana mousse. It's their speciality." Stella takes the lid off the box.
Harry and myself peer into the box and catch sight of the light yellowy-brown mousse.
"

Thanks so much but I think we'll give it a miss Stella," says Harry, gulping and trying his very best not to heave.
About The Author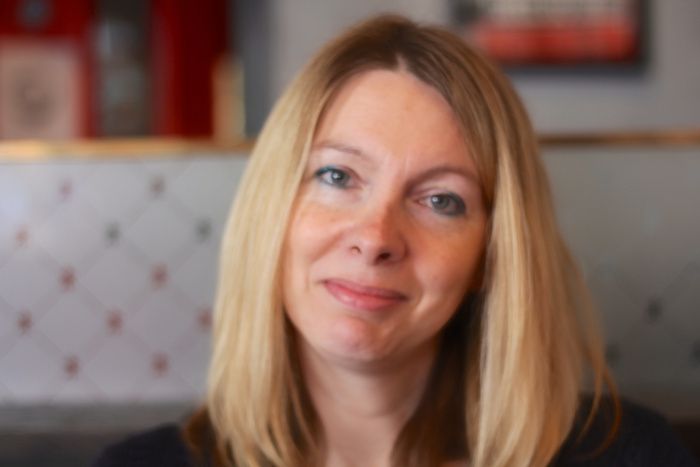 Andie M. Long is author of The Alpha series which includes Amazon Number One Erotic Thriller The Alphabet Game; Co-writer of the Amazon Number One Erotic Romance/Adult fiction bestseller The Bunk Up with DH Sidebottom and The Ball Games series, amongst others.
She lives in Sheffield with her son and long suffering partner.
When not being partner, mother, employee or writer she can usually be found on Facebook or walking her whippet, Bella.
Andie will be signing in Liverpool and Newcastle 2017 and York 2018.

FOLLOW ANDIE:

Andie's Reader Hangout (not a street team, just a place to hang and have fun).

Mailing List(get a free ebook of Alphabet Wedding and Quickies on sign-up)
EMAIL: contact@andiemlongwriter.com
Website
Facebook Page
BookBub
Amazon
Pintrest
Goodreads