Welcome Today's Featured Author
Eve Langlais!!!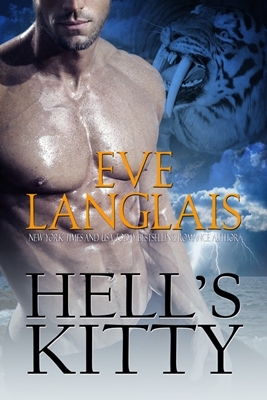 Book: (new release) Hell's Kitty
Book Link:
http://evelanglais.com/wordpress/books/hell4
Blurb:
Good thing this Hellcat has nine lives because he's going to need them
if he's going to survive Lucifer's latest scheme and land on his four
furry feet.
Bad kitty. Hot kitty. Hell's Kitty is on a mission for the devil, but
he's never too busy for seduction.
Okay, so Felipe ate a few of the Styx sea creatures. In his defense,
they were awfully tasty. Depleting the monster reservoir didn't mean
Lucifer had to go all Lord of Hell on him and order him to go on a
stupid mission. And to Siren Isle of all places! Everyone knows males
should stay far, far away from that dangerous place. The only stroke of
luck is the woman he's after isn't a siren. Nor is she quite a mermaid.
As a matter of fact, Jenny isn't like anyone he's ever met—so, of
course, this curious cat wants her.
Except he's not the only one.
Not long after his arrival, he runs into problems, which he's only too
happy to solve in a permanent and violent fashion. Getting Jenny off the
island and back to Hell's inner circle is proving more troublesome than
expected, though. Who knew a simple retrieval mission would signal the
start of a dangerous—yet exhilarating—adventure, and despite his tomcat
ways, this purring feline can't help but fall in love.

Excerpt is available via the book link.
http://evelanglais.com/wordpress/books/hell4
Bio:
~ New York Times and USA Today Bestseller
Hello, my name is Eve Langlais and I am an International Bestselling
author who loves to write hot romance, usually with werewolves, cyborgs
or aliens.
I should warn you, I have a twisted imagination and a sarcastic sense of
humor something I like to let loose in my writing. While well known for
my shifter stories, I am also extremely partial to aliens, the kind who
like to abduct humans and then drive them insane...with pleasure. Or do
you like something a little darker, more serious? Then check out my
cyborgs whose battle with humanity have captivated readers worldwide.
If you'd like to know more, read some excerpts or find out what I'm
working on, then please visit me at
http://www.EveLanglais.com
or sign
up for my newsletter at
http://www.evelanglais.com/newrelease
.
I am also extremely active on Facebook:
https://www.facebook.com/eve.langlais.98
Special:
For the month of June, book one in my Welcome to Hell series, A
Demon and His Witch is free. See
http://www.EveLanglais.com
for links to download it.